Winner of HM's cup being one of the best 5 factories in Oman in 2006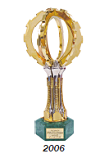 Computer Stationery Industry was established as a Limited Liability Company in the year 1985 with just two machines and eight employees. Since beginning, CSI set sights on total customer satisfaction and this being the primary objective the company maintains highest quality possible by way of certain specific checks at regular intervals. With this philosophy and untiring commitment of its employees, CSI has grown manifolds and was converted into a Joint Stock Company. It is now a proud owner of several state-of-the-art machines and facilitates providing unmatched quality and services. CSI's innovative and foresighted vision earned ISO Certification in 2004.



Established
Established in the year 1985 as a Limited Liability Company
Pioneers
Pioneers in the field of manufacturing computer forms in the Sultanate of Oman
Stock Company
The only Joint Stock Company in printing field in the Sultanate of Oman
ISO Certification
First Continuous form printing press in Oman to get ISO certification
What We Do
CSI does various types of jobs for your business need.
Printing and supply
Printing and supply of computer forms in various sizes and multiple colours.
Assistance
Assistance in making new designs or modifying the existing ones.
Quotations
Quotations within minutes from our specially designed ERP.
Automated
Fully computerised pre-press, special security designing MICR encoding.
Forms
We make Letter heads, Invoice, Delivery notes, Purchase orders, MRNs and SRVs, Hotel forms and Job cards.
Bank Vouchers
We make Bank Pin mailers, Pay envelopes, Snap-out sets and Photo envelopes.
Cheques
Cheques in continuous format, in sheets or as books.
Drafts
Drafts in continuous format, in sheets or in pads.
Free Delivery
Free delivery upto the customer's door-step anywhere in Muscat.